Eleomar Puente

Eleomar Puente 1968, Cuba. Live and work in Miami, Florida. He began his art studies at the José Joaquín Tejada School in his hometown and later traveled to Havana, where he graduated as a painter and designer of the famed San Alejandro Academy in 1987. In early 1988 began a successful career despite his young age was his awards, critics and participation in national and international events that ranked among the young artists of greater respect and prestige in the country and is well deserving of awards and national distinctions. In 1993 he emigrated to the Dominican Republic presented his solo exhibition at the Museum of Modern Art, and later in 1994 was selected as a Cuban artist and awarded the Gold Medal at the Second International Biennial of Central America and the Caribbean. Among his awards also include: Acquisition Award, XXI National Biennial of Visual Arts, Sto. Dgo; Critics Award, International Drawing, Honorable Mention at the Sixth International Painting Biennial of Cuenca, Ecuador, among others.
His work has been exhibited successfully in major galleries, biennials and contemporary art fairs, being acquired by prestigious public and private collections in the United States, the Caribbean, Europe and Latin America.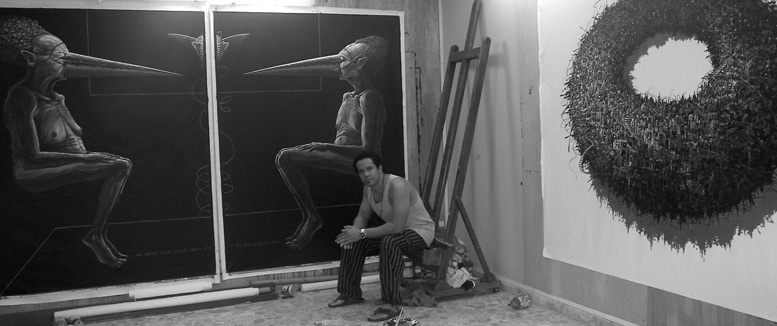 The approach of this collection continues to be the same… the desire for freedom, the abuse of authority and the conscious aggression. Negative traits I reiterate as humanity has been doing since the beginning of time, the individual as a symbol of the mass that transforms into a destructive category in the face of his own harmony, directly becoming the eco of the consistent growth of war, fear, violence and self-destruction.
At the same time, I present works where love is sprinkled among beings that share the same dreams and desires, becoming categories of achievements and hope.
The characters are physically presented to be more human, interacting with machinery and objects of their own ingenuity shaping a politically incorrect argument which is a reflection of these times."